If you are in comedy long enough without being an overnight or breakout star, there are two things you will learn. One is how to have a healthy (or sometimes unhealthy) dose of cynicism.  The other is that there is a "comedian" named Dan who stalks comedians on-line because he has not received the needed mental health assistance he needs.  Multiple people (with advanced degrees in psychology) have told me that they think this "comedian" may have feelings for me akin to Scotty J in Boogie Nights or, more insidious, Chris Cooper in American Beauty. Although flattered. I am not interested, but that does not stop this "comedian" from contacting me through numerous false e-mails on line.  And now, in an effort to lure me (and maybe other comedians) to a hotel, the Buffalo Bill of comedy has now developed a false booker e-mail (sadly, he is too stupid to realize that his 4th grade level insults and bizarre usage of the English language are so consistent throughout all his on-line personas that it fools no one ever).  So here are the e-mails from "Charity Event Booker Bert Pierce":
Wow – a charity event at the Hilton!  In town? What town?  $150 – what charity event at a Hilton can only afford $150 for entertainment?  Well I guess I will mull over the offer. But before then I decided to post the email above to Facebook to show everyone about my great offer.  But then I received the following after 2 am:
But Bert!? I was seriously considering your offer!  The Beverly Hills Hilton!  But I want to perform there. Even if it is a $500 flight for a $150 gig.  And I am not sure why he is writing "yes". I never replied.   Turns out it is someone who must stalk my Facebook page.  Hey… this doesn't seem like a legit gig offer anymore! And then the final e-mail: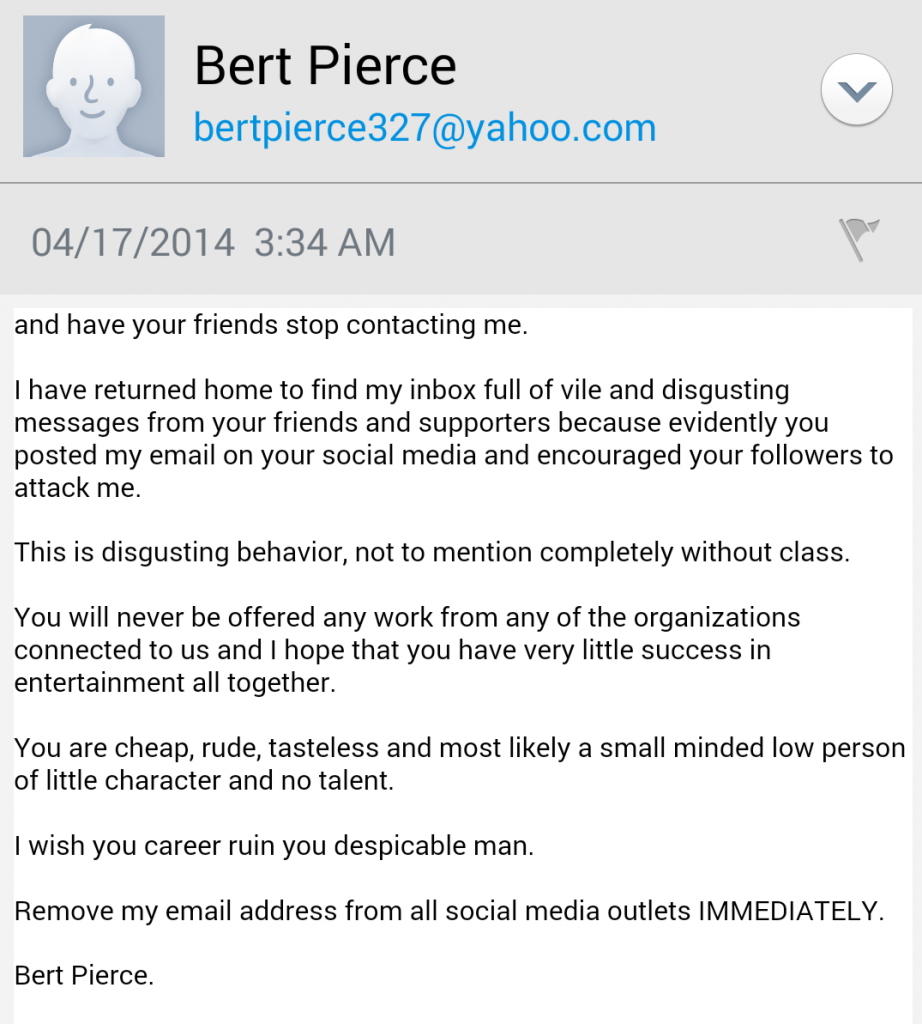 Hey you mean between 2:58 am and 3:34 am all of my fans and friends got on e-mail and took action!?  That seems unlike them.  And since I did not encourage any attacks I am appalled that they all went on email at 3 am to trash Bert Pierce. What's weird is that Bert Pierce only 10 hours earlier was trying to book me at a Hilton and now he says I have "no talent."
So comedians be warned: there is someone out there trying to lure comedians to the Beverly Hills Hilton who also imagines things at 3 am.  Sounds like a danger to the community so I thought I would offer a warning.  I just hope I don't hear about Bert Pierce punching reporters for The Daily Beast when his booking scam is exposed.
For more opinions, comedy and bridge burning check out the Righteous Prick Podcast on Podomatic, iTunes and NOW on STITCHER. New Every Tuesday so subscribe on one or more platforms today – all for free! 

This weekend I was in Timonium, Maryland performing at Magooby's Comedy Club.  I had performed a couple of weekends at the club's older space a few years ago, but had not been booked since.  But then I worked a weekend in Syracuse a couple of months ago with the brother of Magooby's owner, killed it and got him to vouch for me to work Magooby's (side note – this is why for the rest of the year I am putting together a "Working With Relatives of Comedy Club Owners" tour).  But like all my comedy recap stories, the comedy club is just one player in an ensemble of experiences over the course of three days.  So here it is:
On Friday I arrived in Baltimore and then proceeded another hour via light rail and bus to Cockeysville, Maryland where my hotel, The Ramada Limited, was situated.  The first thing that bothered me was that the place was listed as a hotel, but had the motel-esque feature of all rooms accessible from the street (the lobby was just its own kiosk and not an entryway for access to any of the rooms).  In addition to that was the fact that within 2 blocks of the Ramada Limited (the Limited stands for your chances of success in life if you have to stay there) there was a Chick Fil-A, a Five Guys, an IHOP and a Dunkin Donuts.  The message from Cockeysville was simple: if a drifter looking for a quick score doesn't kick in your door and murder you, the food options will do it to you.
The first bad omen on the trip was when I checked in to the ho/motel I was sent to one room that had not been cleaned. I came back and was sent to another room. That one had not been cleaned either (I could see the dead hooker's body through the window).  Finally I got a third room that was clean. #Blessed
FRIDAY SHOWS
Friday night's shows were interesting.  The first crowd was dead for the emcee.  Now sometimes I can see an emcee doing poorly and say either "crowd is not warm yet or the emcee sucks."  But in this case there were some solid jokes that were not even registering with the crowd.  My set had some good laughs and plenty of almost inexplicable dead spots (like language barrier level dead spots).  Here is how I basically ended my first set:
"Well, this was fun, though it was more like a TED talk than a stand up set."
Crowd – nothing
"Oh Christ, I did it again – you guys probably don't know what a TED talk is!  Now my set is turning into an Inception of references you don't get – like layers of things you have never heard of on top of each other."
Crowd – nothing
"Oh, Inception. Sorry – this tiny movie that made like $300 million a couple of years ago.  I referenced two movies in this set – Avatar and Inception and you'd think I mentioned some obscure foreign film." 
See a lot of politicians say things like "The American people are smarter than that…" to discredit opponent's positions.  And many comedians focus on being likable or pandering.  To quote Danny Glover, "I'm getting too old for this sh*t."  I understand if someone like Dennis Miller can throw people off with all his references, but if an analogy to Avatar or Inception in a joke doesn't register (when it registers laughs 98% of the time) then yes, crowd, it is you.  So I will treat you with disdain and condescension (even more than usual).   I have never watched a TED talk, but I know what the fu*k they are!  As another example unrelated to my jokes, I have never watched Citizen Kane from start to finish, but I wouldn't stare like a vegetable if someone made a broad reference to it.  But maybe the crowd was just tired from a long work week. Or stupid. Or both.
The second show went much better Friday and I sold a couple of CDs.  It was a hard earned split.
SATURDAY SHOWS
Saturday's shows were both solid.  The first show was probably my favorite crowd. I celebrated with a couple of gin and tonics and a burger (important note for a later part of this story – the last thing I ate until 8pm Sunday was the burger at about 1030pm) and then Rob Maher and Joe Robinson of the Rob and Joe Show arrived at the club.  They run a very good podcast and we communicate often on social media, but it was good to hang out in person.  Of course I woke up today to see that I had fallen 10 spots on the Stitcher Comedy Podcast Rankings, which I think is directly attributable to my association with them this weekend.
The second show was probably only the third best set of the week for me (nothing was going to be worse than the first Friday show unless someone shot me while on stage) but I felt like I ended the weekend with a 3-1 record.  However, the most eventful part of the weekend was just getting started…
SUNDAY FUN DAY!
I could not sleep well Saturday night. I was getting up at 8am anyway to begin my journey on the Maryland bus system to get to Baltimore Penn Station, but what should have been 6 hours of relatively satisfied sleep was about 2 hours of crappy sleep.  My stomach was feeling a little queasy so I decided to skip the "executive continental breakfast," as the Ramada Limited called it, and went to the bus.
During the 80 total minutes I was on the different buses I started to get progressively more tired and queasy feeling, though travelling through several neighborhoods in Baltimore I could not help but smile thinking about The Wire because everyone had the physique and accent of Prop Joe (and half the characters on The Wire – either the white-ish Baltimore accent of saying words like "Coach" as "Cauch" or the one I heard much more common, the blacker Baltimore accent of saying words like "two" as "tseu" (I hope that is clear and if it is not, I blame you)).
By the time I reached Baltimore Penn Station I was sweating profusely and my stomach was reacting like I had just chugged a gallon of Mexican tap water.  As I result I ending up spending so much time in a Baltimore Penn Station bathroom I nearly qualified for adverse possession.  Feeling better and barely making a train I had been 50 minutes early for I sat down in my seat and started to feel a different kind of queasy coming on.  Not to mention the sweating got worse to the point that it might have been making fellow travelers uncomfortable.  I went to the snack car to have a water and a Gatorade and to get a little more space.  About 25 minutes into that I had the sudden urge to vomit. So I shuffled my way to the bathroom (by this time my back was hurting and all my muscles felt weak) and let forth a furious puke fest.  Now I was just left with back pain and a headache, but my stomach was much better.  I then went back to my seat to see someone sitting in it (to be fair it was a crowded train and I had been gone for an hour) and my backpack missing.  Turns out someone had seen a sweaty dude with thick eyebrows leave a backpack and told the conductor!  I could finally cross "be suspected of being a terrorist"  off of my bucket list.  To show how out of it I was, the conductor had walked right by me with my backpack – as it was at the table right next to where I had been semi-comatose in the cafe car.
So there it is folks – comedy, hostility, illness and terror threat – just another weekend in comedy.
For more opinions, comedy and bridge burning check out the Righteous Prick Podcast on Podomatic, iTunes and NOW on STITCHER. New Every Tuesday so subscribe on one or more platforms today – all for free! 

Yes, I know we are 20 years away from having to replace Jimmy Fallon, the newly appointed host of The Tonight Show, but why not get an early start on people likely to bid for his spot.  After a brilliant podcast discussion debate yesterday (if I do say so myself) on who should/will replace Letterman, I thought why not start extrapolating into the future. And since Jimmy Kimmel is still establishing his brand as a late night staple it made sense to explore the potential replacements for Jimmy Fallon (and then maybe 20 years from now some enterprising Internet nerd will unearth this blog, if one of my suggestions is picked, and say, "this former comedian, now coaching girls' youth basketball as a sentence for violating the 2021 federal statute against cyber insults of female athletes, called it all along!" Partially inspired by the podcast (seriously give it a listen) and also by a desire to not scorch the Earth of the comedy industry for a day (scratch that), decided on this definitive list. Enjoy!
1. Justin Timberlake – Sure he is too young and charismatic now and he is still hoping to have a second act to his musical career imitating Robin Thicke or a first act for his movie career, but around 50 Justin Timberlake will realize he is the perfect combination of famous, friendly and vanilla to kill it as a late night show host. And imagine the joy of Midwest moms twenty years from now if JT starts dancing in the aisles with them like a more feminine version of Ellen?  It will be like that moment so many of us felt seeing John Travolta dance for the first time in years in Pulp Fiction!
2. Chelsea Handler – She is never going away and she has fudged her age this long.  I am sure we will all accept her as 46 years old in 2034.
3. Mindy Kaling – I have heard she is funny, she is brown, but in a tech support way that even real Amurrrricans find useful and she is a woman.  This could work for sure in the future  if she does not branch out to movie stardom, but just remains a friendly TV presence.
4. Jay Leno – Think of it almost like a re-boot to end our love of re-boots and, with continued advances in medicine many of his fans may still be alive in huge numbers in 2034.
5. A transgender woman who identifies as she-male with tomboy tendencies.  Isn't it a matter of time before every group clamors for not just social acceptance, but social elevation?  I look forward to the XOJane.com article, "Isn't it time we had a host that was not restricted by Facebook's 50 puritanical choices for gender identification?"
6. Mark Normand – NYC comedian is friendly, funny, has a late night show host's cadence and has been on more top ten up and comer lists than Belle Knox.  This is the 10,0000 to 1 shot I would place a $50 bet on today.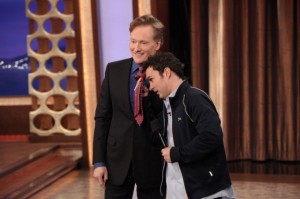 7. Chris Hardwick – As Twitter and other forms of social media continue their onslaught on what comedy used to be this guy has already hosted so many television programs Jesus Christ refers to him as the Lord of Hosts.  And maybe by 2034 late night television will be some virtual reality experience where only the technically superior reign.  Like the future in the Terminator movies except with some guy screaming "POINTS!"
8. Mario Lopez – If George Lopez has not eviscerated America's hopes that a Latino/Chicano can be funny, given the demographics of the country and Mario Lopez ability to be on television for two decades, maybe he could be a Tonight Show host.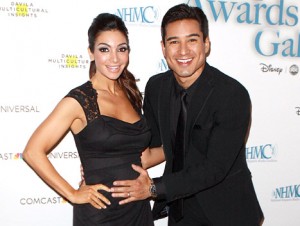 9. This Kid 
Click here to view the embedded video.
10. Belle Knox – The aforementioned Duke University porn dabbler whose story continues to change and be modified to avoid criticism has proven that she is media savvy, intelligent and is willing to do the thing most important to advancement in Hollywood: suck di*k.  So hopefully by 2034 we can be done with the oppressive patriarchy of society and pick a host willing to turn late night television into HBO's Real Sex, so kids without cable can see fun stuff too (assuming the Internet has blown itself up by 2034)
Sadly the list is still heavily male dominant, but I have to leave something for the Jezebel 2034 website to complain about (and then nominate the first group of famous women they can think of).
For more opinions, comedy and bridge burning check out the Righteous Prick Podcast on Podomatic, iTunes and NOW on STITCHER. New Every Tuesday so subscribe on one or more platforms today – all for free! 

One of the things I hear from younger comics, the ones not afraid to speak to me, in conversation is the following: "I need to get on the road."  A much more accurate derivation of this that I hear is "I want to get out on the road."  That one word change makes all the difference and it took me several years of ongoing frustration to learn the difference.   Many comics want to get on the road – it is fun, you feel like you are earning your keep (travel, receiving a check, filling out a tax form – it almost feels like a job!) and you gain experience and stories.  But the idea of "needing" to get on the road is really nonsense.  Now, of course I am speaking to a majority of comedians, but excluding some: headliners and their personal opening acts, this does not apply to you.
As one of the last of a generation of comedians raised early on advice like "write… perform… repeat" as the key to becoming a good comedian (back then becoming a "good comedian" implied that the quality would render you a  "working comedian"). Internet and television opportunities may be plentiful, but with the industry prioritizing different metrics beyond (or above) the actual quality of stand-up comedy, working on your stand up act has never been more irrelevant to being a working comedian (better to be "decent" with additional factors in your favor, than just a great stand up). But the mythology surrounding road work still persists: the idea that working the road is necessary in light of tremendous evidence that it cannot help you build your career or your bank account.  I have said it many times before, but like America in general, stand up comedy is becoming a business where the middle class is being squeezed out. It is not financially viable for up and comers (without management or heat or other entertainment income) to work full time at their stand up so the only people incentivized to dedicate themselves to comedy are locals who are increasingly employed by penny pinching clubs (don't cut the headliner's $20,000 pay check; instead, cut the feature pay/value from $900 total dollars to $500) or headliners who continue to be more central to the club's bottom line.
So why are comedians still drawn to the road? Ego. That is the main reason. It serves no real financial purpose. And no matter how many emails you collect as a feature act or a low level headliner, without a massive Internet or television presence (or industry/management backing willing to leverage their more famous clients to benefit your budding career – very common) you are not going to build the kind of fan base that will elevate you to the level you want or need (or by the time you collect 15 years of e-mails we will be on to the next tech thing you "must do" to advance.  But you feel like a real comedian on the road – if you are coming from NYC, LA or Chicago club audiences treat you like a D-list celebrity if they like you, drinks are cheap, laughs are plentiful and you might even sell some merchandise.  But at the end of the day, the dwindling quantity of road work that pays a decent week's wage is not worth the ego boost.  And many of the clubs (not all, there are still some good managers and owners still treating their comedians like professionals) are nickel and diming comedians more and more so that it sometimes is not even worth missing a week of work back home.  Think of it this way, to be available to even do 20 weeks of road work in a year you cannot really have a full time job.  But to become great at stand up you need the freedom to work at least that much.  It is a real Catch 22 – if you have the time to work on your act you will almost likely get too poor to continue that lifestyle, but if you work a full time job to pay your bills your opportunities for stage time, road work and crafting longer sets will be greatly diminished.
And then there is my personal favorite that deserves a small note – the road booker's "last minute replacement" list.
Several years ago I received a few bookings from a prominent club booker.  I did very well with the clubs I work, as evidenced by the unsolicited e-mail I received from the booker saying "I have heard great things about you. I am moving you up my list." I assumed this meant I would receive more bookings. Since that e-mail I have not worked any of his rooms.  I did not realize that I was moved "up" from the "sometimes booked" to the "fu*k this guy" portion of his list.  I would think that would be a step down, but clearly I don't get the industry.  But then I realized that I had actually been moved to the "last minute replacement" list for this booker, as well as another unrelated booker.  This list is the "Oh no someone cancelled and I need someone within 1-7 days."  Now, obviously some of the people receiving these e-mails may be within driving distance to these clubs, but for many these e-mails come off as borderline insulting.  If you are paying me $600 and the flight I must now book costs $500, what is the incentive?  Or is this just a half-acknowledgement that the booker knows the desperate environment they have helped cultivate among comedians that someone will grab it just for the chance to ply their trade for a week?
Of course when I sent a professionally worded email to a booker concerning my lack of opportunities I was told by a third party that my email may have been received poorly (this was an inference, not direct knowledge). In other words, simply corresponding like a regular person may rub these fief lords the wrong way.   So my advice to young comedians would be to leave the road alone, no matter how tempting it is, unless you fall into small exceptions (and on a side note – if you are going to do festivals – treat them more like vacations to meet and talk with other comeidans – if you treat them like realistic opportunities for career advancement, odds are you will leave disappointed, or at least eventually become dissatisfied with them).  Everyone knows the "chicken or egg" dilemma, but what came first, the nickel and dime booker or the headliner who decided to bring their own feature?  Now I have seen some headliners bring their own feature, driven mostly by insecurity, but many others want someone who will work well with them personally and on stage. Totally understandable.  One would think this would be the job of the booker to coordinate good talent that has general chops and also works well with the headliner.  Some bookers take this responsibility seriously. Others don't give a fu*k because booking good mid-level acts (both as individual performers and in coordination with headlining acts) takes giving a damn about comedy and not just the bottom line.
Comedy bookers (to reiterate, not all, but enough to shape the industry) have further driven a scab mentality into working comedians, so a union will never be possible (how do you form a union when the labor force is replete with scab-mentality workers?).  So I think my advice to up and coming comedians is to forego the road.  It will do nothing concrete for your career.  Now if you are working with a headliner and have a personal relationship that can drive you forward professionally then embrace it. Or are you someone with management and road middle work is just a truck stop on your way to headlining and more heat then ignore this as well.  But to everyone else, the road has nothing to offer you. Perhaps a decade ago it was fool's gold, but the economics of stand up comedy now have rendered it fool's bronze – not even worth the foolhardy chase on which you want to embark.  If you think me hypocritical for pursuing road work, understand that my carer has his an all-time high for notoriety, which is a good thing, and a credit to the products I have worked hard to put out, but also near a low point economically because of several of the factors I have included above, so any opportunity to make money from comedy is one I cannot pass up.  Is this where you want your career to be?  Pursuing any and all work, out of equal parts desire and necessity?  Play the long game, not the short game and your comedy career and life will be much better off.  In the age of Facebook and Twitter every comedian's insecure need (or perhaps to show to fans and industry that they are working and relevant) to post messages of false humility and blatant braggadocio of the clubs they are going to work or have just worked can get any comedian seeking opportunities to feel jealous. That is the short game.  Remember – getting on the road in many cases now is not a necessity, but a desire.  Unless you fit into exceptions I have written steer clear of the temptation.
So my advice is to work locally on your act.  Work on your YouTube channel. Work on your Twitter account. If this sounds cynical, it is.  But it is also true.  I have reluctantly, but fully embraced this.  It is simply reality at this point.  I know that I will have to become a headliner for many of these clubs to employ me again, but my stand up skills are not a well known enough draw to make it happen (yet?).  Comedy works less like General Motors and more like Silicon Valley now.  So work on your act and comedy portfolio in a way that benefits you, because I assure you, many club owners' agendas are in direct opposition to the advancement of your career and bank account. Don't let them throw you scraps in the dumpster and act like they are feeding you dinner.
If this concerns any of you it should. It means there are fewer and fewer careers possible in stand up comedy.  But if you are willing to go for it – the way to do it is to either connect with connected people, or become a headliner – in talent or, more beneficial, in fame/reach.  So get cracking on all things that are not stand up comedy if you want to be a working stand up comedian.
For more opinions, comedy and bridge burning check out the Righteous Prick Podcast on Podomatic, iTunes and NOW on STITCHER. New Every Tuesday so subscribe on one or more platforms today – all for free! COMING THIS WEEK – WHO SHOULD REPLACE DAVID LETTERMAN. 
I received a message to submit to a television network (I am omitting the network, though you can narrow it down to a few with the description) and did so last week.  The request was as follows:  We are looking for smart, edgy, viciously funny writers to create digital short content that would air on various ___ platforms.  This is a paid opportunity and an amazing chance to get your work seen on an international television network. Content created if contracted must appeal to ____ Networks demographic and their sensibilities and  feature at least one person of color.  There was an urgency to this posting so as soon as I got home I immediately had 5 sketches of mine that I wanted to submit, which I did.  Here they are for your pleasure.  I would put these five sketches (just 5 of several dozen I have made over the last few years) with commercial breaks against any of the falsely-subversive humor of Key & Peele, but I am biased (but no hammy intros to sketches has to at least play in my favor).  If I do not receive a good word about this, however, I really want to know who submitted and got the job(s).  Well, enjoy these videos for the first time or again.  Think of these five sketches as the pilot of my non-existent show "JL & Cauvin"
Biggie
Click here to view the embedded video.
Tyler Perry's Old Testament, New Problem
Click here to view the embedded video.
Booty!
Click here to view the embedded video.
NBA Dunk Celebration Workshop
Click here to view the embedded video.
Tim & Aaron
Click here to view the embedded video.
For more opinions, comedy and bridge burning check out the Righteous Prick Podcast on Podomatic, iTunes and NOW on STITCHER. New Every Tuesday so subscribe on one or more platforms today – all for free!